Yard Sale Series, Part 2: Multi-Family Sales
Welcome to Part 2 of my Yard Sale Series!
Let's talk about Multi-Family Sales.
Pros and Cons
As with most things in life, having a multi-family sale has upsides and downsides.
Downsides: At the top of this list, I would say working with other people on a sale can be tricky. Money always seems to complicate things, for starters. Especially when dealing with family or friends. Also, differences of opinions of how things should be done can cause rifts. It's possible, too, that the person or people you join up with to plan this sale may be less organized than you (or maybe you're the less organized one!), which can cause undue stress for both parties… it's not fun to nag or be nagged!
BUT! A frank discussion and making sure you align on the big details can significantly reduce the likelihood of these things happening. Also, the upsides probably outweigh the downsides…
Upsides: Multi-family sales can be quite lucrative! Not only is a huge yard or garage sale attractive to drive by traffic, multi-family sales listings bode well in online searches and print ads! Multi-family sales typically offer more items, a greater variety of items, and offer the shopper potentially less stops to make. If the sale "pops" from the street, you'll get a greater amount of shoppers stopping to look, instead of just driving by after taking a peek out the window. Below I'll share what worked for us, and my tips for planning your own magnificent multi-family sale!
How it worked for us:
When I decided to have a yard sale, I wanted to make it special: The Yard Sale to End All Yard Sales. I told my mom what I was doing, and she immediately wanted in. I helped her declutter her home using the same principles as when I decluttered mine (I'll post on this later), and she parted with trailers-full of items! Bolstered by this, I decided to reach out to a handful of friends to see if they would also like to put anything in the sale. It was pretty interesting, but combining stuff from different people meant we had a lot to offer -- both in terms of kinds of items and in sheer volume of items!).
I appointed myself the point person, which made sense because the sale was taking place at my house. I had already chosen the date: it would coincide with my neighborhood's annual garage sale weekend. I sent a detailed email to the friends of mine that had expressed interest in either having items in the sale or helping with it in some way: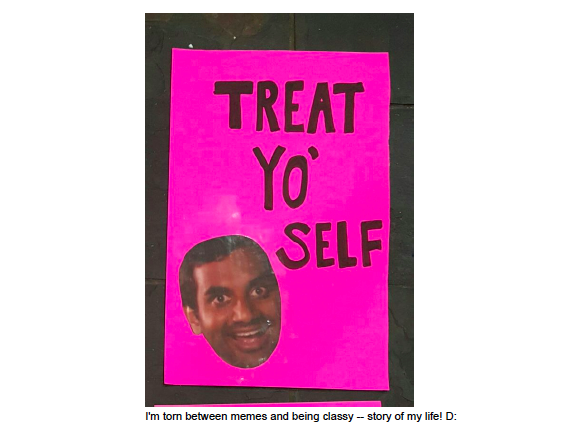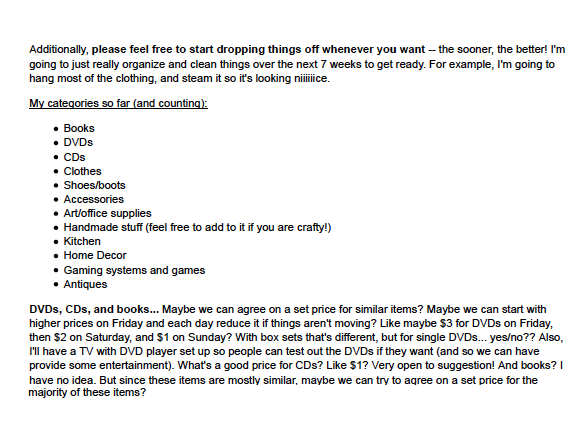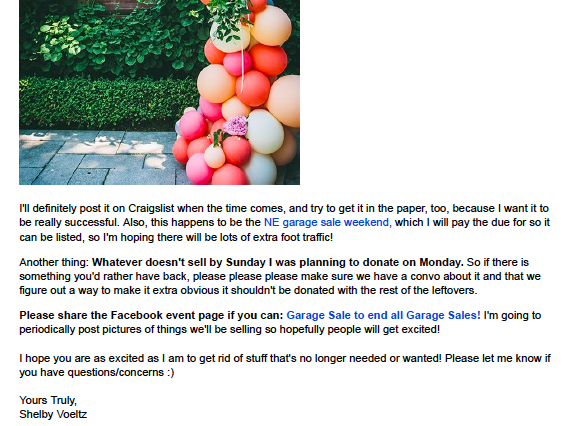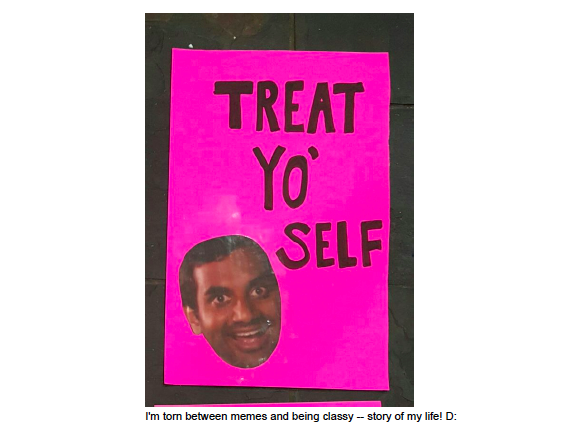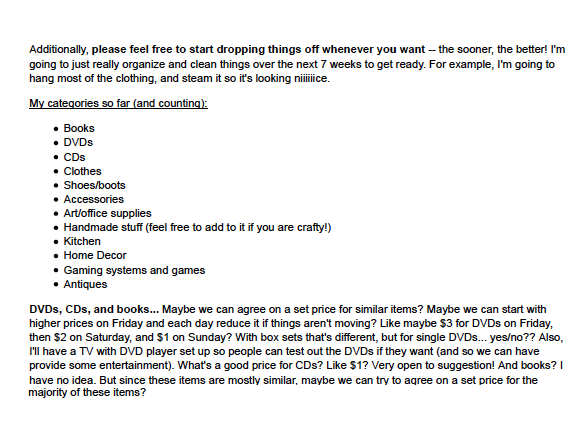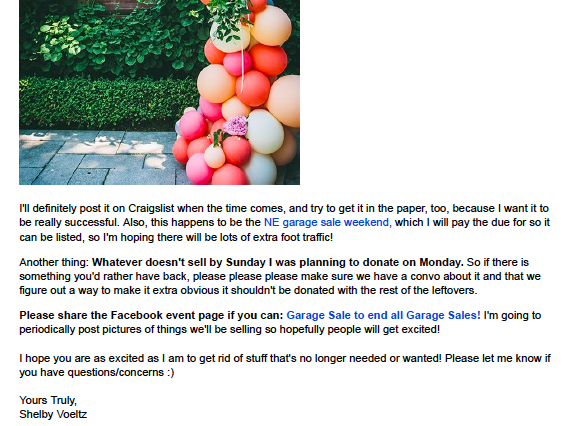 Most of the friends that participated contributed items but weren't able to be there for part or all of the sale. It wasn't an issue, I just had them price their items and drop them off ahead of time. Shortly before the sale, with everyone's items piling up, my house did start to look like an episode of Hoarders, though!
Tips:
Pick a date that works for the most people. If you have the option, pick a date that works for everyone. For my sale, I had my heart set on having it during my neighborhood's annual yard sale weekend, so in my case the date picked itself. I had a couple of friends that wanted to participate that couldn't be there on the actual days of the sale; we made it work by having them price their items and drop them off ahead of time.

Coordinate prices. If you are selling similar items, price items the same whenever possible.

Agree on increments. At my sale, we kept everything in 25¢ increments so as to limit the type of change we'd need to have on hand. If you decide to do something like this, make sure the whole team is aware before they price stuff.

Decide on haggling. Does anyone want to allow haggling? If not, then everyone can state that the prices are "as-marked" if hagglers ask. If some or all involved do want to allow haggling, then decide upfront who can haggle for what (Only the item's owner? Anyone? To what extent?). At my sale we had all decided that what didn't sell would be donated, so everyone was cool with haggling if it meant making a sale.

Color code the different sellers. For example, we used a blue and white chevron print masking tape, another friend used a pink and gold washi tape to write prices on. There are also color coding sticker, like these neon dot stickers. We went with the masking and washi tape because it looked cute and was easy to peel off items for our log. This is not necessary, but it did really seem to help keep things organized when we were totalling up items sold at the end of the sale.

Agree on how to record prices. We decided to used a notebook for the tape and a jar to collect hang tags to record friends' items -- the majority of the items were ours (mine or my mom's), so we did not record our items at all to simplify the process. When an item sold, we would peel the tape off and stick it in the notebook. An easier solution might be having everyone download the TallySheet App (seriously cool, let's you add multiple "cashiers" and color code them to match their items), but we just went old school. Other options are taking an inventory (though checking it may prove time consuming, difficult or inaccurate -- items can go missing!), or writing things down in columns. The sticker/tag collection process was pretty easy for us, and all we did was add up the total after the sale was over, and divide the money accordingly.

Advertise. Online and in the local paper. I know I already mentioned this, but multi-family sales are pretty appealing to seasoned sale shoppers and newbies alike. Let the world know when and where your multi-family sale will be!

Signage. As with advertising the sale, state clearly that the sale is multi-family. Using the term Multi-Family Yard (or Garage) Sale will draw folks in. Also be sure to make the location of the sale clear on the sign, and easy to see from the street. Set up additional directional markers on the corners to help shoppers find the way to the sale.
There's my tips for Multi-Family Sales! Do you have a great tip I didn't list? Please share in the comments! More installments of the Yard Sale Series are on the way. Thanks for reading!